QUICKQUOTE IS A SOFTWARE THAT ALLOWS YOU TO CREATE QUICK AND ACCURATE ESTIMATES FOR THE MOLDS MANUFACTURE.
AUTOMATIC CREATION OF COMMERCIAL DOCUMENTATION.
EASY AND QUICK DEFINITION OF DIRECT MOLDABLE AREAS AND SLIDING ELEMENTS.
DYNAMIC ADJUSTMENT OF MOLD PLATE DIMENSIONS AND ITS COMPONENTS.
AUTOMATIC DETECTION OF RIBS AND OTHER SPECIFIC DETAILS ON THE PART.
AUTOMATIC DETECTION OF NEGATIVE AREAS AND DEFINITION OF SLIDES AND LIFTERS.
CATEGORIZATION AND DETAILED REPORT OF EXPENSES.
To support companies of different sizes, QUICKQUOTE is installed with a database with average costs and hour rates, that reflect the general reality of the mold industry. His allows you to start quoting immediately, without complex customizations.
Also, with QUICKQUOTE, forms and reports templates are installed, that can be adapted to your needs, so you can automate the documentation output, with minimum effort due to the common technologies used.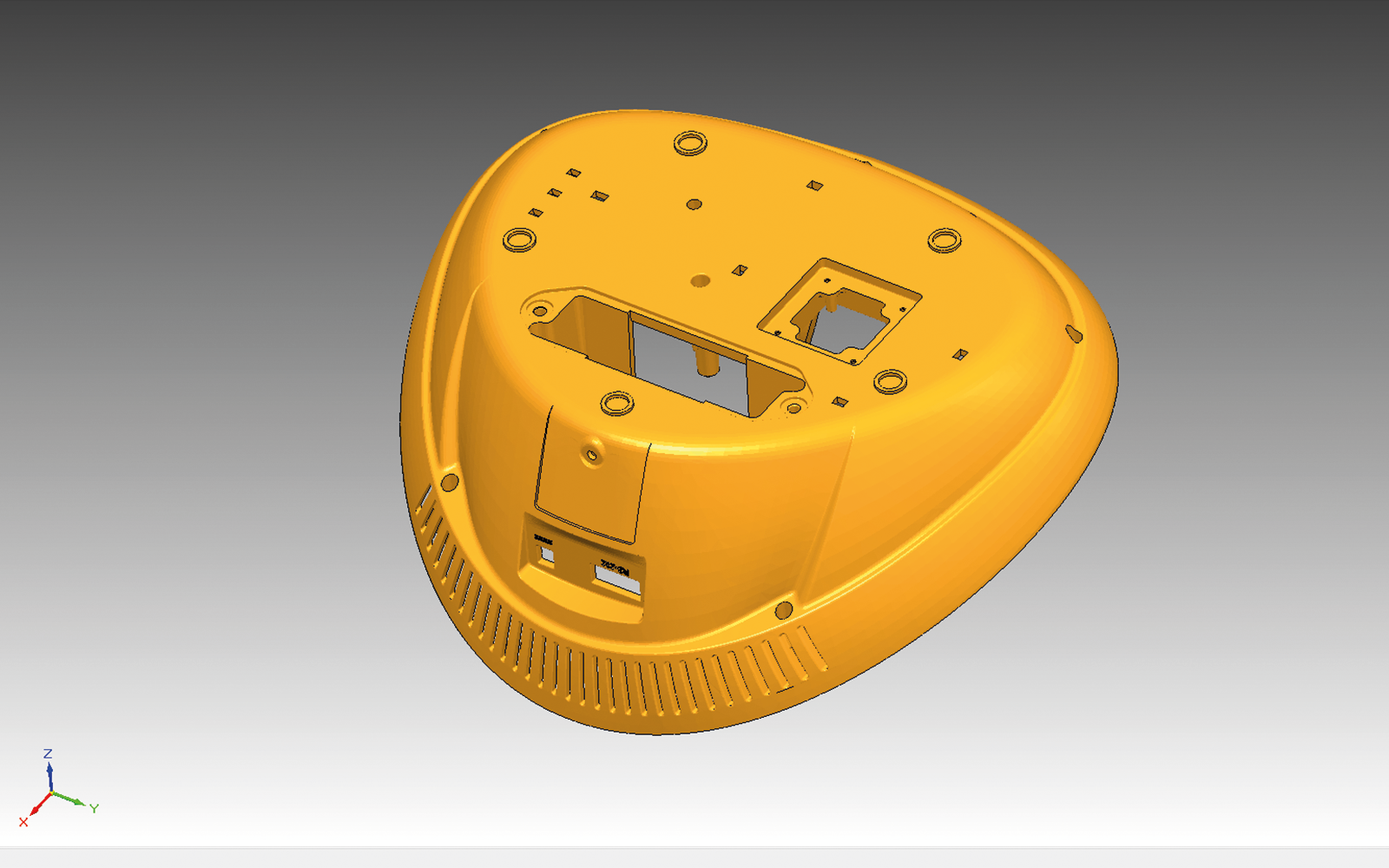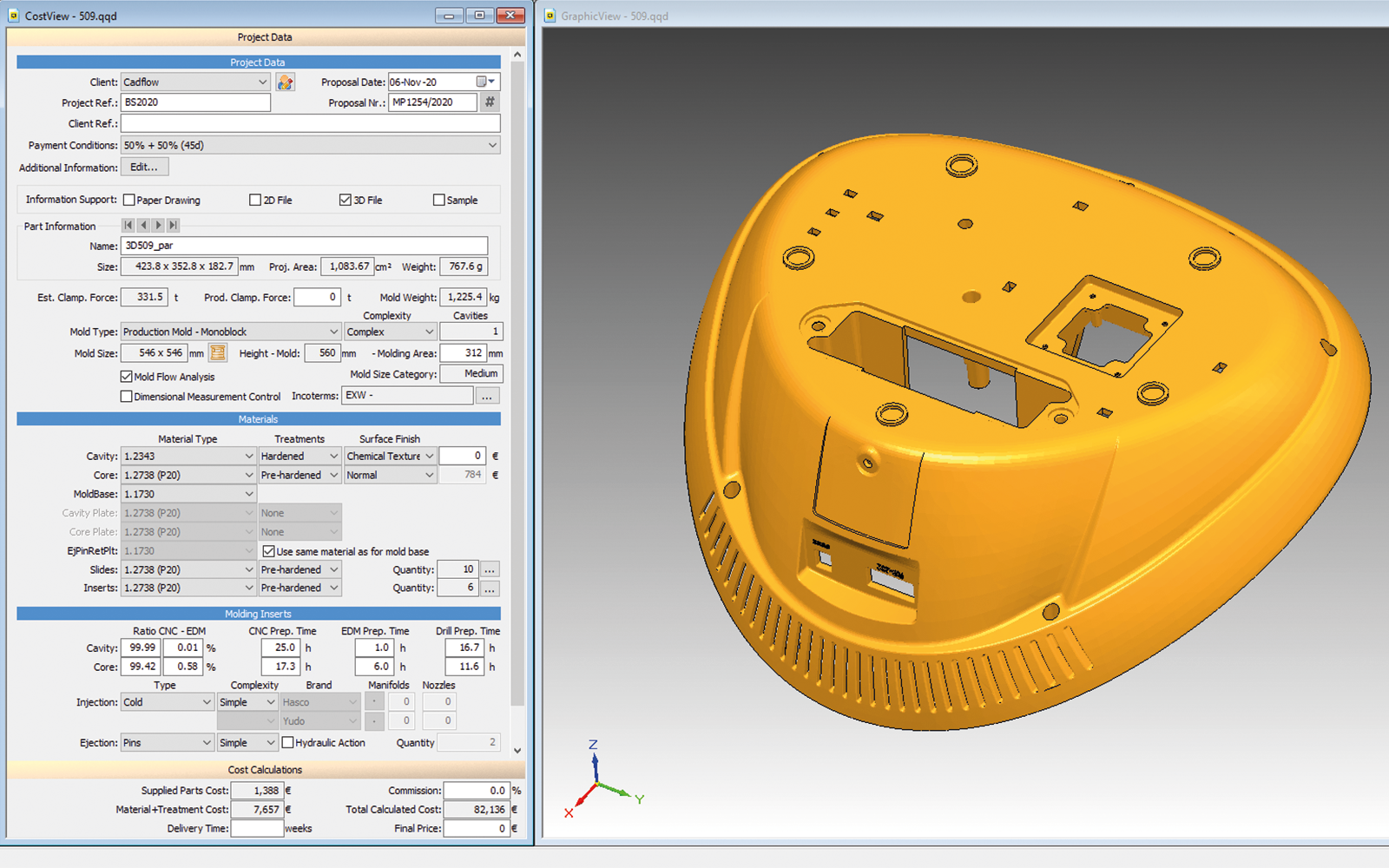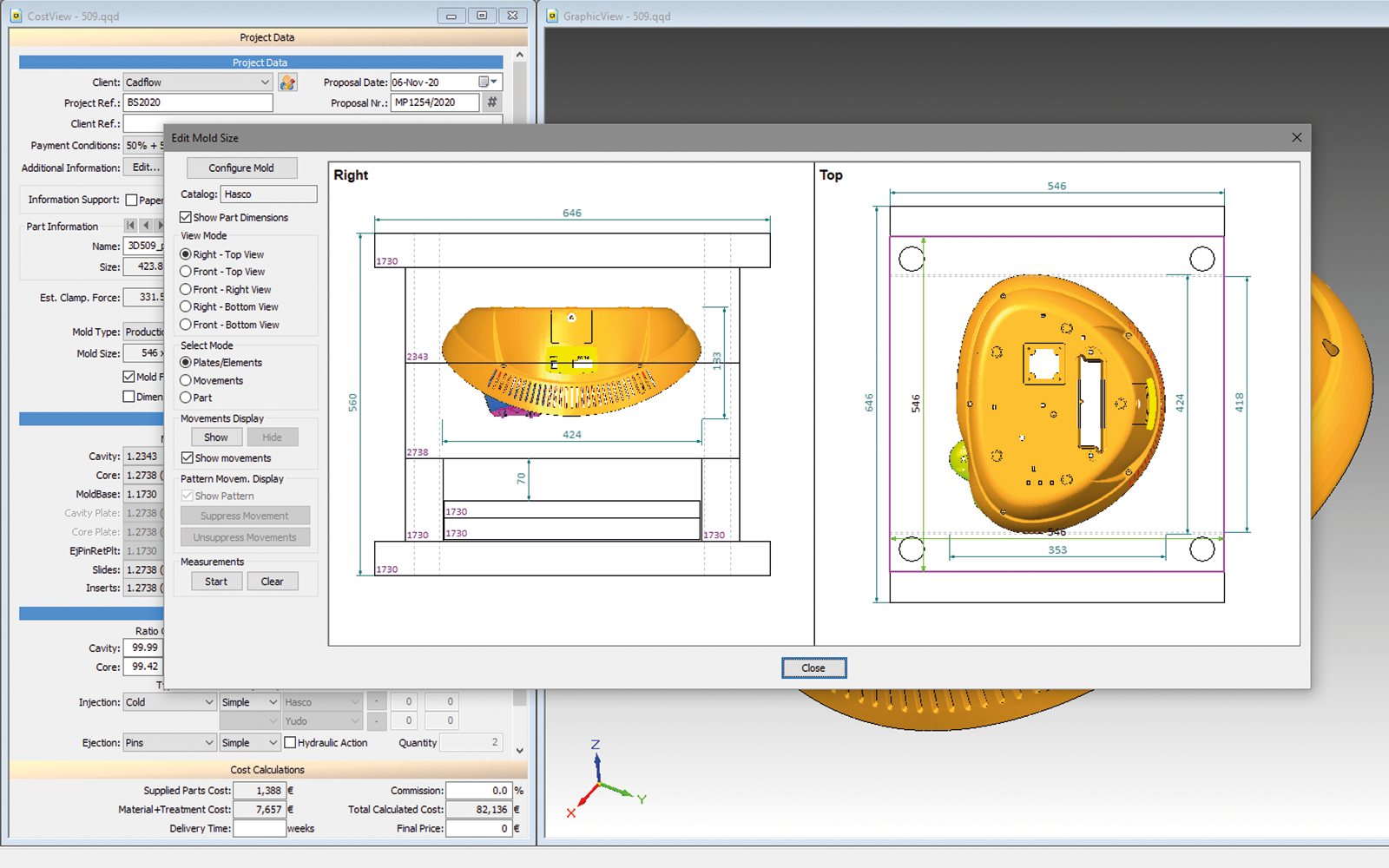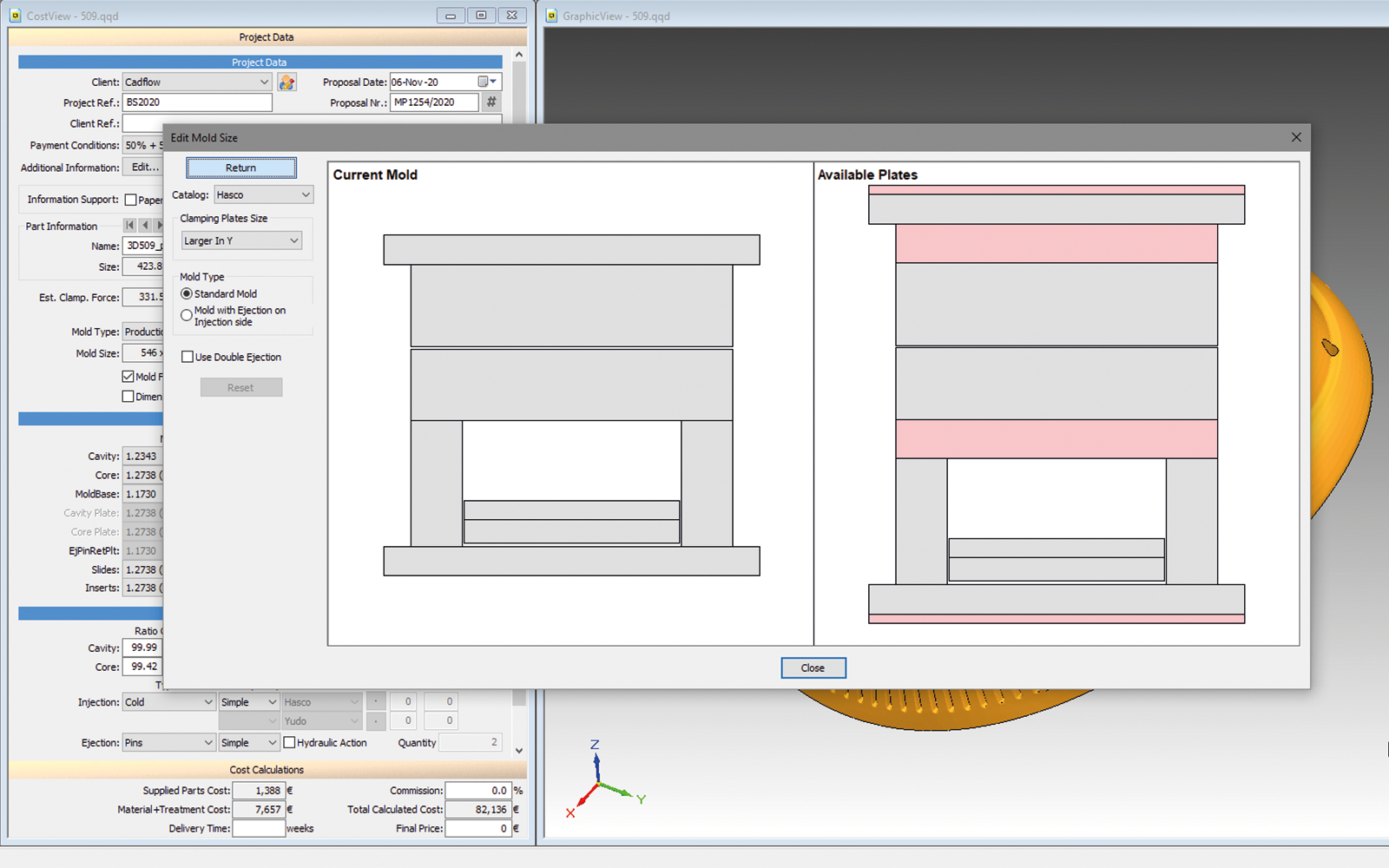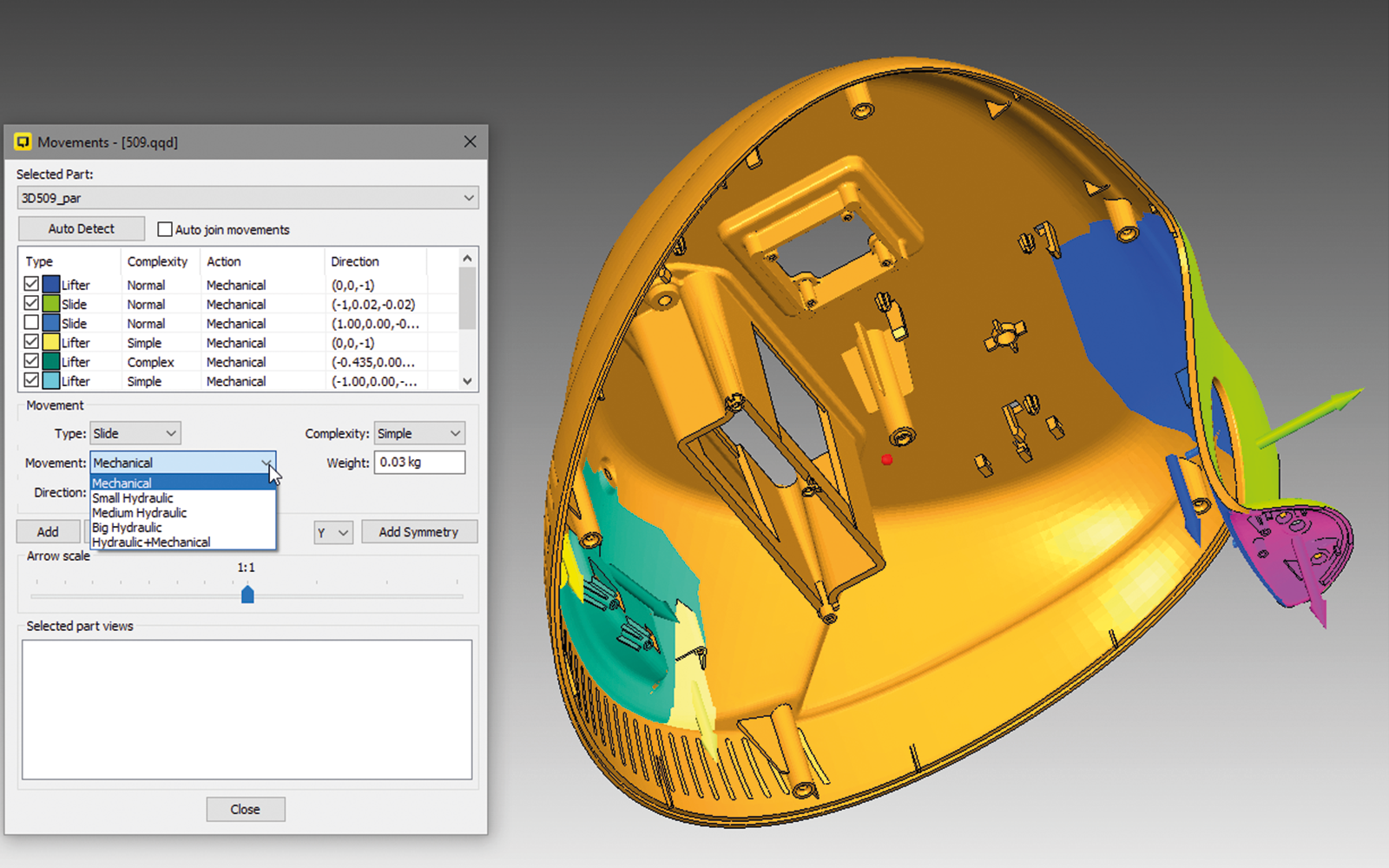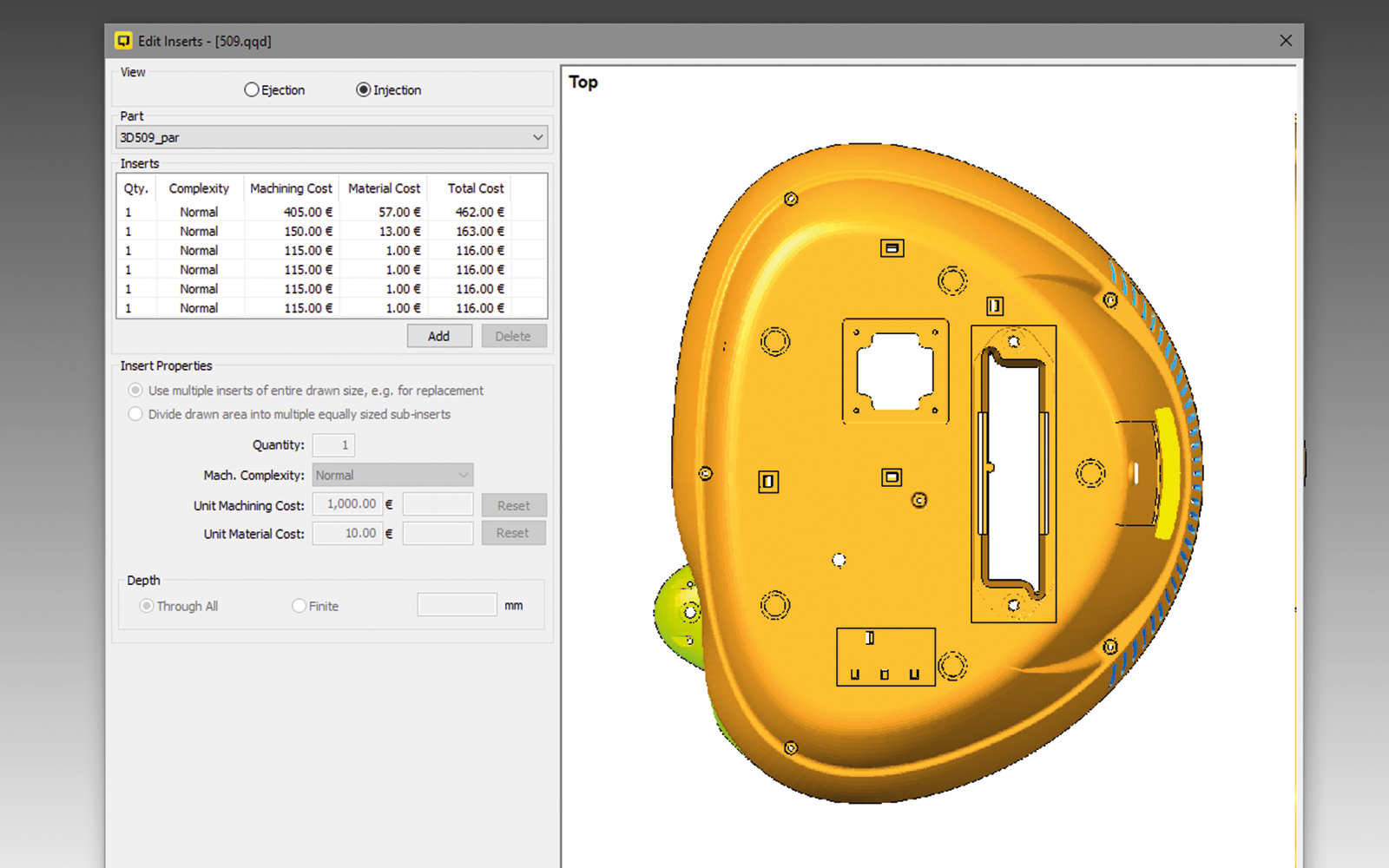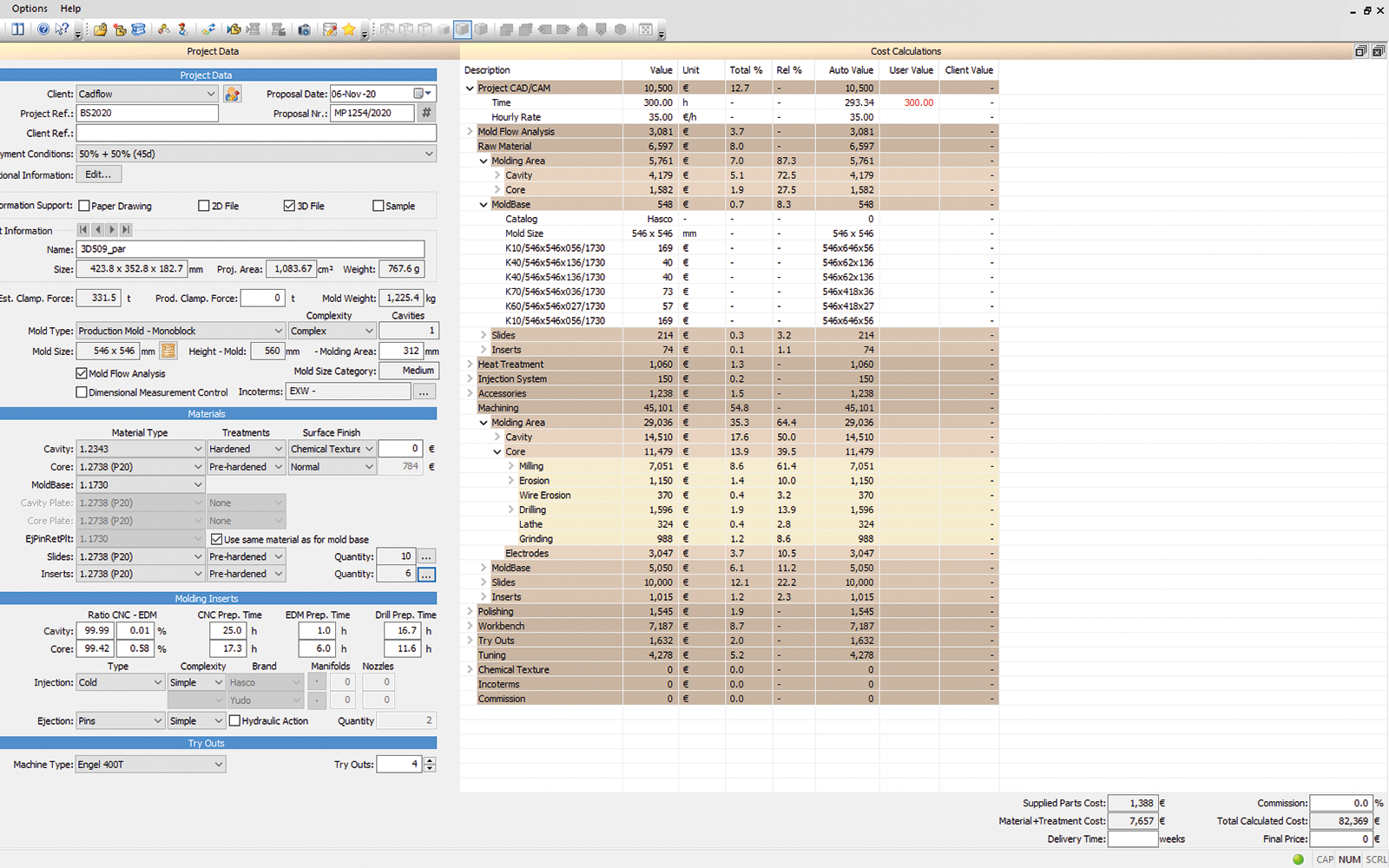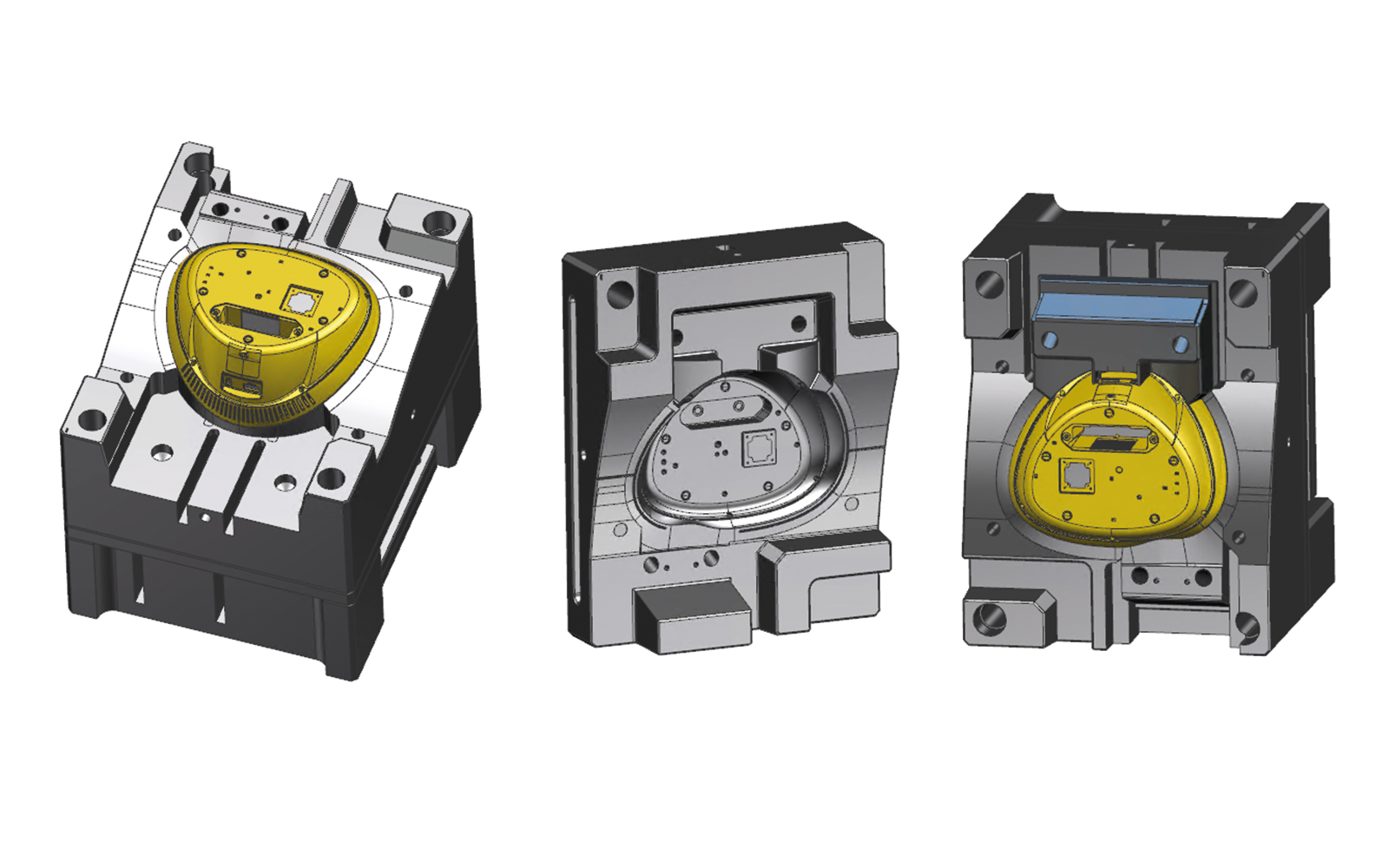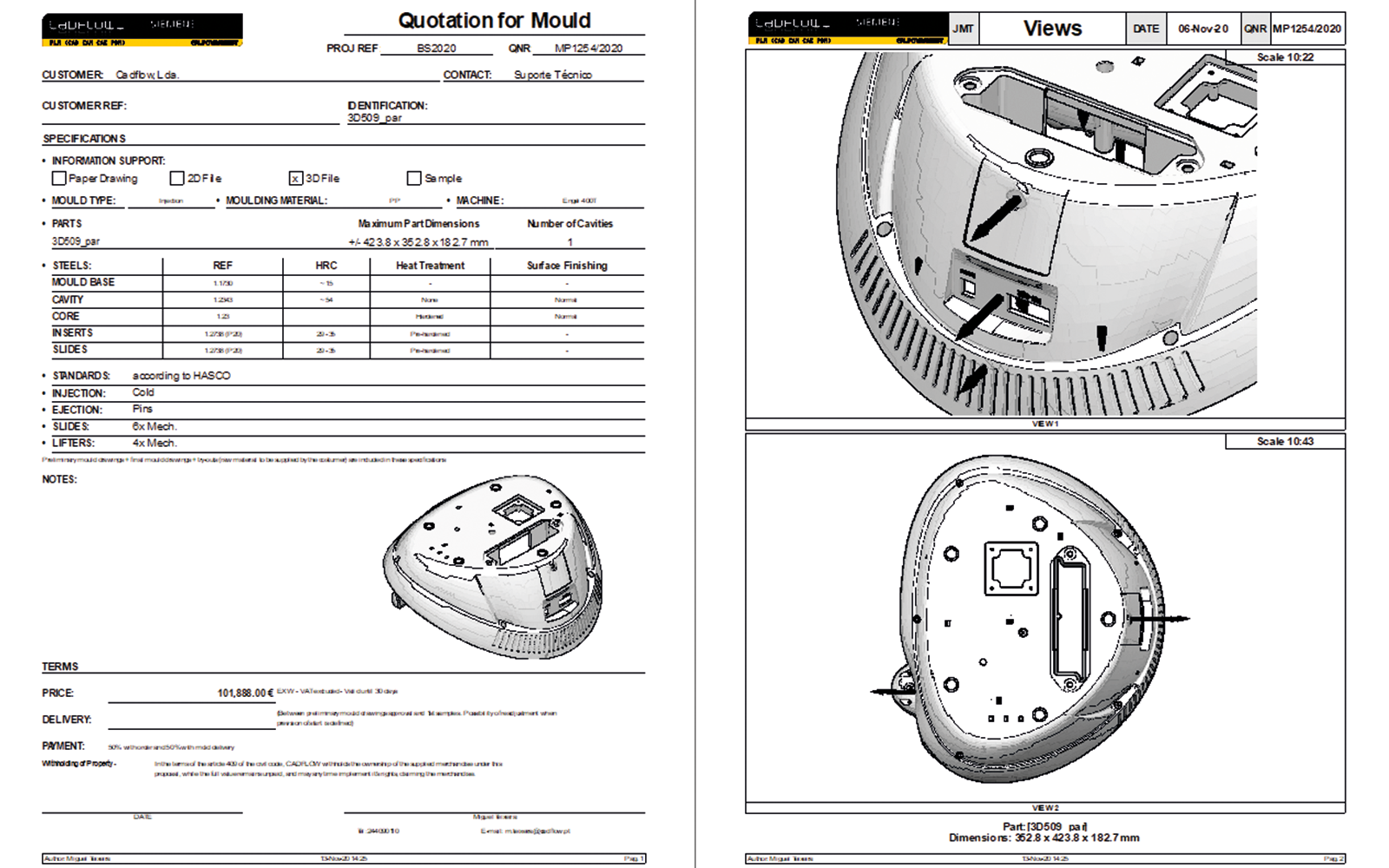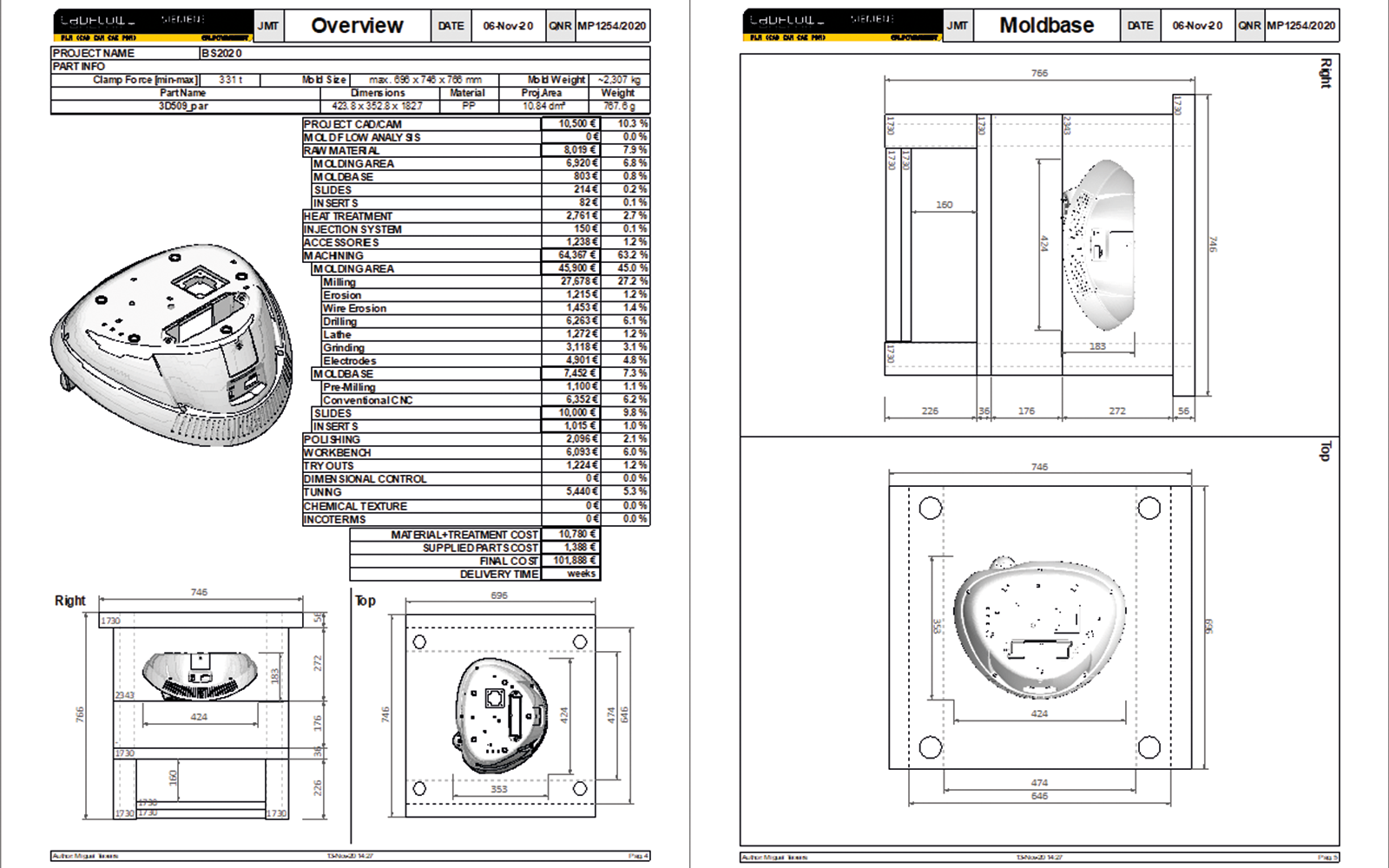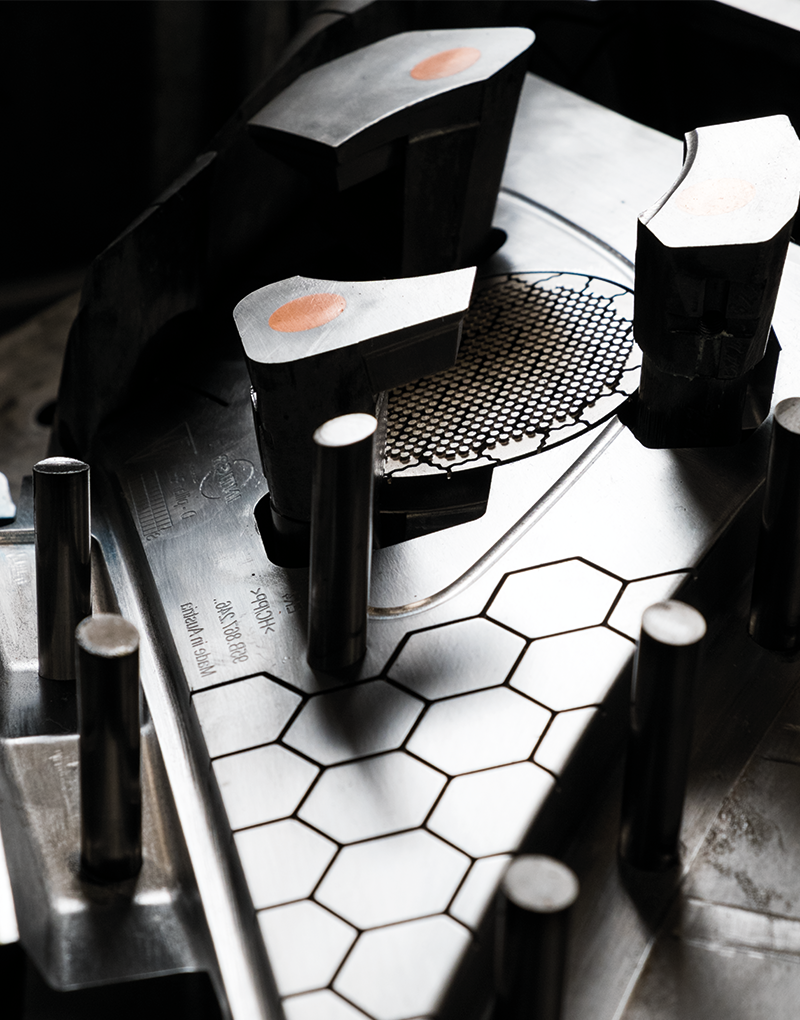 Geometry Easy to Import 
SPEED
QUICKQUOTE allows you to import the part geometry in STL format. This lightweight format is simple, accurate and universally used, which assures that the model received from the potential costumer is easily and quickly introduced into the quotation system, allowing the operations to be fast and dynamic.
Nowadays, requests for mold quotations are increasingly being created in a massive way: with a single click, a customer can request for a quotation from hundreds of potential suppliers.
There is a need to quickly deliver an accurate and reliable proposal. With QUICKQUOTE, you just need to select the 3D model of the part and set the initial parameters, that a value is instantly calculated based on the part's geometry and user preferences. Any change on any parameter causes an immediate update of the final value, allowing quick analysis of different approaches to mold design.
Automatic Documentation
PRECISION
QUICKQUOTE automatically produces the preliminary drawings of the mold structure and representation schemes of slides and lifters. This allows the users to have a better perception of the work to be done and increases their level of confidence.
The slide components of the mold are the details that most influence the final cost and are also the most difficult mold components to predict empirically. The current solutions on the market use extensively abstract parameters, and the user has to introduce an abstract value without knowing its impact on the final cost of the mold. This lack of transparency causes nondeterministic results and does not adequately reflect the specific industrial realities in which the project is developed.
The use of 3D models, associated with the automatic detection of movements and other important details of the mold, while considering the part geometry, reflects an adequate description of the industrial reality in which the project will be developed.